If you're planning a hunting trip in the "Bluegrass State," prepare for some of the best deer hunting in the continental United States. Kentucky archery season is one of the most consistent producers in the country, with quality bucks on public and private land. There are plenty of regions offering preferential opportunities for bowhunters.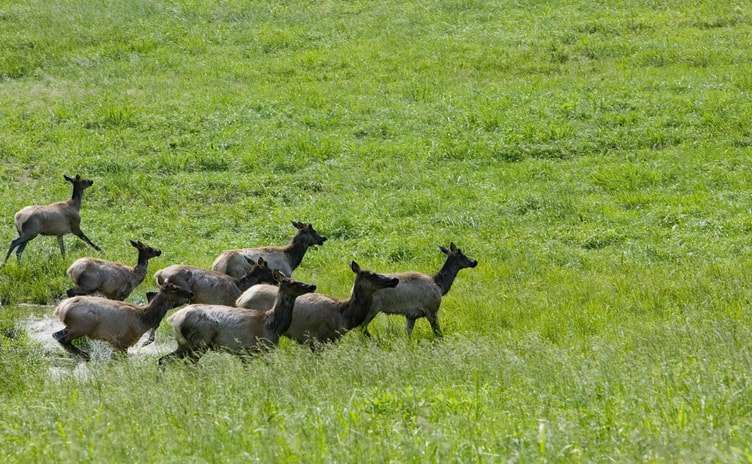 Kentucky (KY) Archery Season, 2022-2023
Hunters will find diverse habitats across Kentucky. There are some fantastic scenery and hunting conditions, from woodlots to forests and wooded streams. You'll find excellent deer habitat with mast-producing trees surrounded by public reservoirs.
Eleven wildlife management areas (WMAs) offer hunters a staggering 143,000 acres for bowhunters. After bagging, hunters must check in all bears, turkey, elk, river otters, and bobcats.
When does Archery Season Start in KY?
Kentucky Deer Seasons
Crossbow September 17-January 16

Youth-Free Weekend December 31-January 1

Youth-Only October 8-9
*Some season dates and regulations may vary by zone.
Kentucky Elk Seasons
Archery/Crossbow September 10-23 / December 3-9

Youth Only All Season Dates
*Season dates vary by region and cow (antlerless) or bull (antlered) take. Youth-only quota hunts can occur during all seasons.
Kentucky Turkey Seasons
Fall Archery September 3-January 16

Fall Crossbow October 1-16 / November 12-December 31
*Spring dates are under a proposal.
Kentucky Bear Seasons
Archery October 22-28

Chase Only June 1-August 31 / September 9-30
Bear hunting is closed in some hunting zones. Bear seasons are only open for residents.
Kentucky Small Game Seasons
Crow September 1-November 7

Groundhog March 1-February 28

Squirrel August 20-November 11 / November 14-February 28

Grouse November 14-February 28*

Rabbit November 1-February 10*

Quail November 1-February 10*
*Season dates vary by region. Special seasons, bag limits, and hunting regulations vary based on season and animal.
What are the Legal Hunting Hours in Kentucky?
Hunter's hours are from 30-minutes before sunrise to 2 pm daily.
Hunting Licenses and Permits in KY
Purchase your licenses and permits from the Kentucky Department of Fish and Wildlife Resources website.
Kentucky Residents
A resident has lived in the state for a minimum of 30 days. Non-resident students enrolled in educational institutions in Kentucky for a minimum of six months and active-duty military personnel stationed permanently in the state are considered residents. All residents 12 or older must purchase a resident hunting license.
Non-Residents
Non-residents aged 12 or older must purchase a non-resident hunting license.
Youth Hunting Licenses
Residents and non-residents under 12 don't need a hunting license or permits. Residents and non-residents aged 12 to 15 must buy a Junior Hunting License.
Senior Hunting Licenses
Residents aged 65 or older are eligible for a Senior Combination Hunting license at a reduced fee.
Disability Licenses
Permanently disabled residents are eligible for a reduced-fee Disabled Hunting License.
Veteran and Military Licenses
Active-duty military personnel who are residents of Kentucky but stationed outside the state do not need to purchase a hunting license while on leave.
Requirements for Migratory Waterfowl
Hunters can check the Waterfowl Hunting Regulations for more information. Hunters aged 16 or older must purchase a Federal Duck Stamp and Kentucky Migratory Game Bird-Waterfowl Permit for hunting migratory waterfowl. Additionally, hunters must prove participation in the Harvest Information Program (HIP).
Check out our guide 30+ Hunting Rules to Keep You Safe while bowhunting in the wild.