Alabama archery season offers archery hunters several options for game. Hunt deer, alligator, quail, and turkey in season. Alabama state has abundant natural diversity and over 1.3 million acres of public land for hunting.
Alabama offers hunters liberal seasons and bag limits compared to other states. AL archery hunters have the opportunity to hunt white-tailed deer, bobwhite quail, waterfowl, wild turkey, feral hogs, squirrels, mourning doves, rabbits, and many other species.
Alabama hunting season differs by county around the state. Individual counties have independent season start and end dates and bag limits.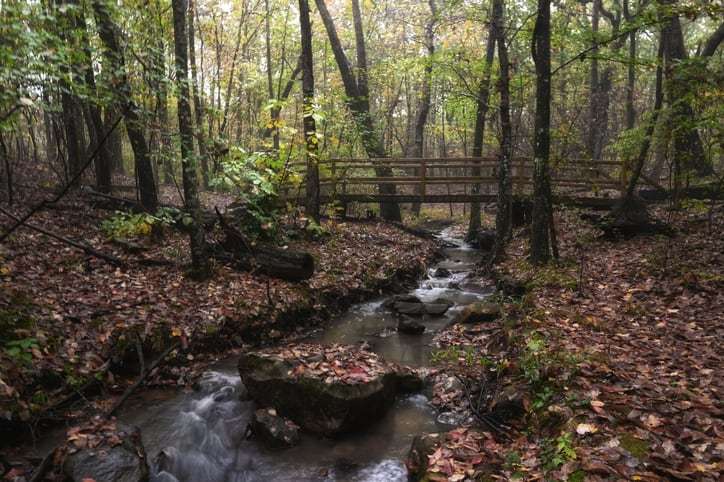 Alabama (AL) Archery Season, 2022-2023
Alabama allows registration and purchase of archery hunting permits online. Additionally, hunters can report harvests online, through an app, or over the phone.
When does Archery Season Start in AL?
Alabama Deer Seasons
Archery or Spear October 1 – February 10** / October 28 – 31**
**Season dates vary by zone and antlerless/ antler deer
It's legal to use hand-thrown spears when hunting deer. Most Alabama counties have restrictions on using dogs during deer hunts.
Alabama Wild Turkey Seasons
Fall General Season November 19 – 27** / December 10 – January. 1**

Spring 2023 General Season March 25 – May 8**

Special Youth Hunt Saturday and Sunday before the opening of the spring season.

Special Disabled Hunt Day before the opening day of the regular season **
**Season dates vary by zone
Bag limits and seasonal hunting dates vary by county.
Alabama Alligator Seasons
By Special Permit Only Sunset Aug 11 – Sunrise Oct 3**
**Season dates vary by zone
It's only legal to hunt alligators with a special permit in the state. Only residents can hunt alligators in Alabama; licenses are available for application and payment online. Season dates vary by region. Alligator hunting occurs at night from sunset to sunrise, except in Lake Eufaula. All seasonal dates start on the evening of the opening day till the morning of the closing day.
Alabama Small Game Seasons
Bobwhite Quail November 5 – February 28

Rabbit, Squirrel September 10 – March 5

Raccoon Open season

Opossum Open season

Feral Swine May 16-August 31 / February 11 – November 1

Starlings, Crows, English Sparrows Open season

Bobcat, Coyote, Fox Open season, daylight only

Bullfrog and Pig Frog Open season

Beaver, Nutria, Groundhog Open season
**Season dates vary by zone
Special seasons, bag limits, and hunting regulations in Alabama vary based on season and animal. Baiting is not allowed in AL.
Can You Hunt on Sundays in Alabama?
Hunting on Sundays is prohibited across public land in Alabama state. Hunting on private land on Sunday is legal except in Game Zone 1 and in regions where turkey hunting is illegal on Sundays. Bear hunting in Game Zone 1 is prohibited on Sundays.
What are the legal hunting hours in Alabama?
Legal hunting hours for game animals and birds, including deer during open season, is only during daylight hours (30 minutes before sunrise until 30 minutes after sunset).
Hunting Licenses and Permits in AL
Alabama Resident
Residents are defined as living in Alabama state for at least 90-days.

Active-duty members of the military stationed in Alabama are residents.

Alabama residents aged 16 to 64 must obtain a resident hunting license.

Visit the Alabama Department of Conservation and Natural Resources for exemptions.
Non-Resident
Non-residents 16 or older need a non-resident hunting license to hunt in the state.

Non-residents will require a non-resident hunting license even when owning land in Alabama state.
Youth Hunting License
Alabama residents and non-residents 15 or under do not need a hunting license.
Senior Hunting License
Alabama residents 65 or older do not need a hunting license.
Disability License
Permanently disabled Alabama residents may be eligible for a Physically Disabled Hunting License.
Migratory Waterfowl Requirements
Hunters aged 16 or older must buy an Alabama Duck Stamp and Federal Duck Stamp when hunting all migratory waterfowl species.

Additionally, hunters require proof of participation in the Alabama Harvest Information Program (HIP).
Check out our guide 30+ Hunting Rules to Keep You Safe while bowhunting in the wild.