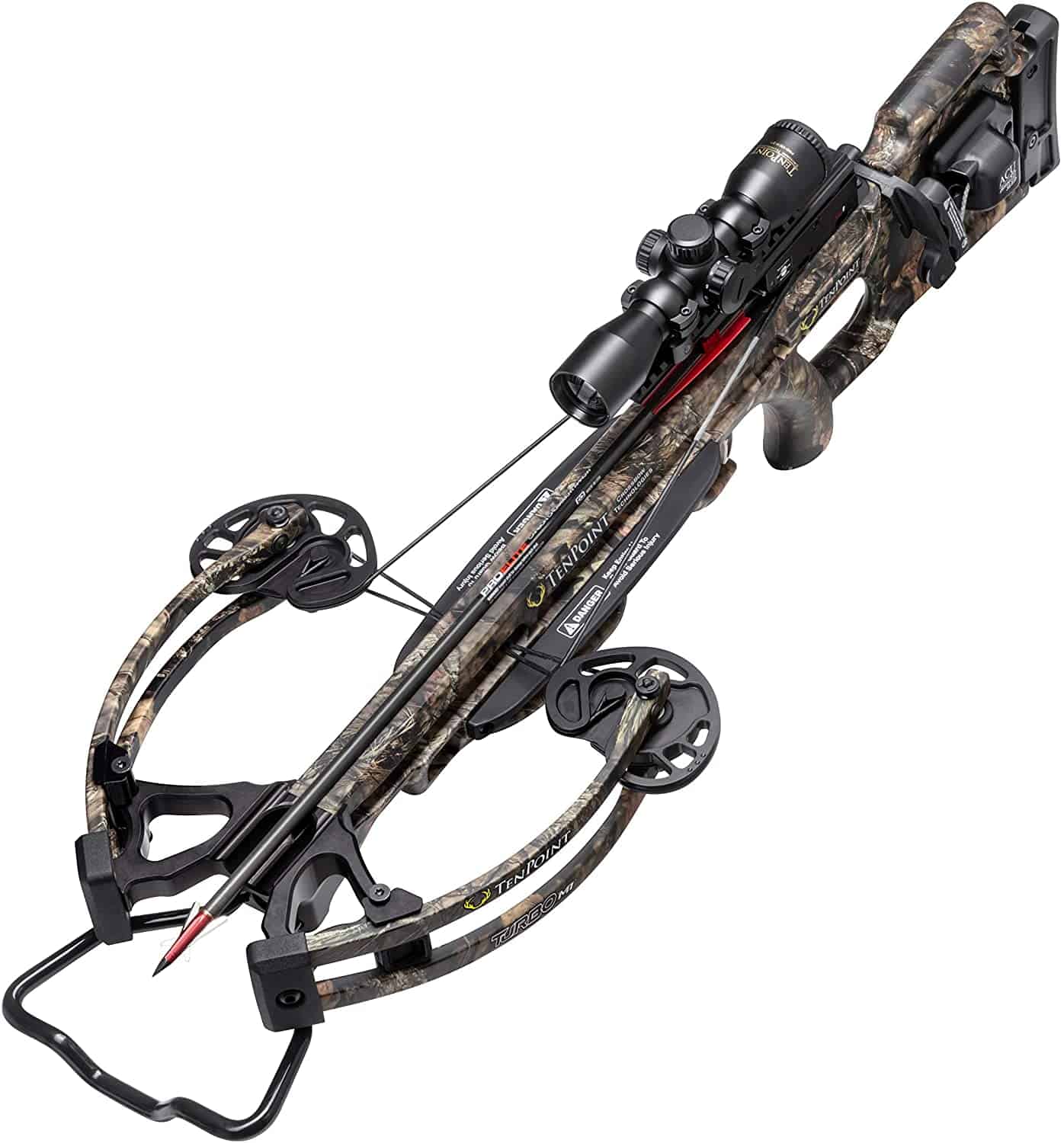 Since 1994, TenPoint has been one of the leaders in the crossbow industry, pushing the limits of specs and patenting features that give you an edge on the hunt. We love TenPoint crossbows so much that we decided to dig up the three best TenPoint hunting packages out there on the market. 
Below you can see what we found, why these models caught our eye, and who specifically can benefit from them. If anything in the reviews is unclear to you, check out the buyer's guide as well, which explains many of the specs and features you'll find listed on TenPoint Crossbows and why you should consider them.
TenPoint Crossbows: Our Favorites
The TenPoint M1 Crossbow Package: the usual TenPoint quality and power at a great value.
The TenPoint Vengent S440 Hunting Crossbow Package: the narrow ATA makes it ideal for stand hunters and those in thick woods.
The TenPoint Vapor RS470 Xero Elite Crossbow Package: limit-pushing power with a rangefinding scope for long-range accuracy.
Our TenPoint Crossbow Reviews
TenPoint Titan M1 Crossbow Package Review
The Titan is TenPoint's best-selling model, and with the M1, they've included all the great features of past versions and added to them. Its most noticeable draw is its great value. While still one of TenPoint's advanced models, the Titan M1 comes at an affordable price. If you're on a budget but still an experienced archer who wants a powerful crossbow for serious mid- to large-sized game hunting, the Titan M1 is a good option.
To be sure, you can definitely use the Titan M1 to take down your trophy buck or bull. This is thanks to a bolt speed of up to 370 FPS that strikes with 116 FPKE of kinetic energy when using the included bolts. This is more than enough to effectively kill big quarries like moose, elk and bears. 
Plus, while TenPoint has plenty of faster models, 370 FPS is still blistering, giving you accuracy over long distances and allowing for still hunting over flat terrain. This is great for those out West who like taking long wilderness hunting trips, stalking game like deer or elk over the course of several days.
The Titan M1's usefulness in rough terrain also comes from its sleek camo finish. With nuanced tones of gray and tan, it can help you blend into mountain and winter landscapes, but because deer have poor color vision, it can still work well in wooded environments too. 
If we had to complain about something on this TenPoint model, it would be its axle-to-axle width of 9 inches. This makes it one of the wider crossbows in the TenPoint line, but we should point out that it's still 5 inches narrower than previous versions thanks to the VX-5 cams that are also responsible for the improved speed and power.
This ATA shouldn't be much of a problem, but if you're a bigger guy—or particularly clumsy—it might be awkward in a cramped tree stand or blind. Otherwise, you can just take advantage of the longer powerstroke that comes from the new cams. Since this allows the crossbow to accelerate the bolt for longer before releasing it, this improves accuracy. 
You can then use this accuracy over long distances thanks to the advanced and included Pro-View 3 scope. It has crosshairs for 20, 30, and 40 yards and a dot for 50 yards. Additionally, it's illuminated so that you can easily hunt at dawn or dusk, when game animals like deer are the most active. The illumination can be set to green or red based on your personal preferences.
Now, while the Titan M1 has the speed and power for experienced hunters and big game, it's still accessible for beginners. In fact, we'd recommend this for newbies who already know they're serious about bowhunting. That's mostly due to the features included in the package.
First, it comes with 3 carbon bolts. Lightweight but sturdy, these pack a punch but fly straight. On top of that, the package includes a lightweight attached quiver that holds 3 bolts so that you have easy access for reloading if you miss your first shot. Lastly, the ACUdraw cocking device makes it easy to load and cock your crossbow. Specifically, it decreases the draw weight to only 5 pounds, no problem for even the most inexperienced bowhunter.
Pros:
Great value
Fast but accessible 370 FPS
116 FPKE enough for big game
Advanced VX5 cams
Included scope accurate over 4 distances
3 carbon bolts included
Attached quiver included
5-pound draw weight with ACUdraw cocking aid
Cons:
Wide ATA
Larger than other TenPoint models
Assembly somewhat complicated 
TenPoint Vengent S440 Hunting Crossbow Package Review
The Vengent S440 is one of TenPoint's top-shelf models. That means it has specs that push industry limits and features that are hard to find anyone else. As a powerful crossbow, it's not quite as accessible for beginners, but it provides solid and consistent archery that frequent bowhunters can potentially count on season after season.
The most unique feature of the Vengent S440 is its narrow ATA width. At 5.8 inches, it's one of the narrowest in the TenPoint line. This makes it ideal for stand hunting, especially if you use small, climbing tree stands. Wider ATAs are more likely to get caught on things, which could cause you to miss a shot or make noise that scares off your quarry.
Unfortunately, the narrow ATA comes along with an increased length of 35 inches without the included foot stirrup. This may actually be more comfortable for taller archers, but keep it in mind when you're using tree stands or blinds.
This longer length also increases the powerstroke which allows for more speed and power. Specifically, the Vengent S440 shoots bolts at a whopping 440 FPS producing up to 166 FPKE of kinetic energy. You can use this crossbow for just about any game out there from bear to buffalo. 
Plus, the high bolt speed means better accuracy, even over long distances. You can take shots you wouldn't be able to with other models, whether that's over large feeding areas from a tree stand or while tracking big game through mountain valleys.
Another key feature of the Vengent S440 that also improves accuracy is the S1 trigger. TenPoint spent a lot of time investing in and researching its roller sear design that includes zero creep and a 3.5-pound pull. This gives you great control over the shot's timing and helps keep you from jerking your arm when you pull the trigger. This creates consistent, accurate shots.
Furthermore, we should mention the quality construction and craftsmanship TenPoint puts into this model. That includes a MICRO-TRAC barrel that eliminates 50% of friction against the bowstring over previous models. This means more accuracy thanks to more consistent firing, but perhaps more importantly, it saves your bowstring from wear and tear. Again, if you're a frequent bowhunter and serious about your archery hobby, this could save you money in the long run, not to mention time and frustration.
Finally, let's go into the included accessories. The Vengent S440 package comes with 6 carbon bolts and an attached quiver that can hold them all. Carbon bolts are expensive, so this is a great deal. There's also the ACUslide cocking system that cuts down on noise, the RangeMaster Pro Scope, and even a bubble level. All this together, you can tackle every detail of the hunt to make sure you have the best chance of success.
Pros:
Super narrow 5.8-inch ATA
Fast and accurate 440 FPS
Advanced S1 trigger system
MICRO-TRAC barrel saves bowstring
6 carbon bolts includes
Attached quiver with large 6-bolt capacity
Scope and bubble level for detailed adjustment
Cons:
Awkward 35-inch length
Cables difficult to replace 
TenPoint Vapor RS470 Xero Elite Crossbow Package Review
The Vapor RS470 is TenPoint's premier model for elite bowhunters who know what they're doing and want the best for every nuanced aspect of the hunt. Built in the USA, its advanced and modern design allows for specs and features that help leave less up to chance and increase your odds of success in the field.
The most impressive part of the Vapor RS470 is the 470 FPS bolt speed, a spec few crossbows on the market can match. That gives you 191 FPKE of kinetic energy. These high numbers accomplish quite a lot. The bolt speed gives you accuracy even over large distances up to a few hundred yards, while the kinetic energy punctures tissue and bone without deflecting, making the bolt more likely to reach the kill zone.
Altogether, this model has a dramatically increased range, even when hunting the biggest game like bull moose or elk. To supplement this, TenPoint decided to make it a ready-to-hunt package by including the Garmin Xero X1i dual scope and rangefinder. 
This is not a reticle scope, but rather, by simultaneously measuring the distance to the target, the Xero scope can provide a single accurate aiming point for game up to 250 yards away. That takes out a lot of the guesswork compared to less advanced scopes where you only have crosshairs or dots for ranges in 10-yard increments, not to mention the fact that you have to do the rangefinding yourself. It even connects to other Garmin devices so you can store the rangefinding information for easier tracking after a successful shot.
As an advanced crossbow model, the Vapor RS470 uses modern design techniques like a skeleton stock. This cuts down on weight so you can hold the crossbow steadier and make more accurate shots while still being sturdy and durable. 
Similarly, the MICRO-TRAC barrel reduces friction on your string so you can take more shots without having to replace it. You don't want to have your string break right when the trophy buck you've been tracking for days finally comes into view.
Finally, TenPoint decided to include many of the same accessories in this package as with their other models. For example, it comes with 6 quality carbon bolts that are even lighted so you can find them if you miss or more easily track down your quarry if you don't.
The included quiver can hold all 6 bolts, plus the package even comes with 3 CenterPunch mechanical broadheads. Mechanical broadheads are great for hunting big game as they can penetrate deep into the animal while still causing plenty of tissue damage. They're expensive too, so by including them, TenPoint has saved you a trip to the store. 
The trigger is TenPoint's advanced S1 system for more control, and the ACUslide cocking system conveniently decreases the draw weight for more manageable cocking. For more convenience, the Vapor RS470 even comes with a sling and a soft case for carrying and storing so you can take the best care of this quality crossbow model.
Pros:
Blistering 470 FPS bolt speed
Powerful 191 FPKE
Advanced Garmin Xero X1i rangefinding scope
Effective lightweight design
6 bolts with 3 broadheads included
S1 trigger system
Ships fully assembled
Cons:
Top-shelf price range
Our Guide to the Best TenPoint Crossbows
The History of TenPoint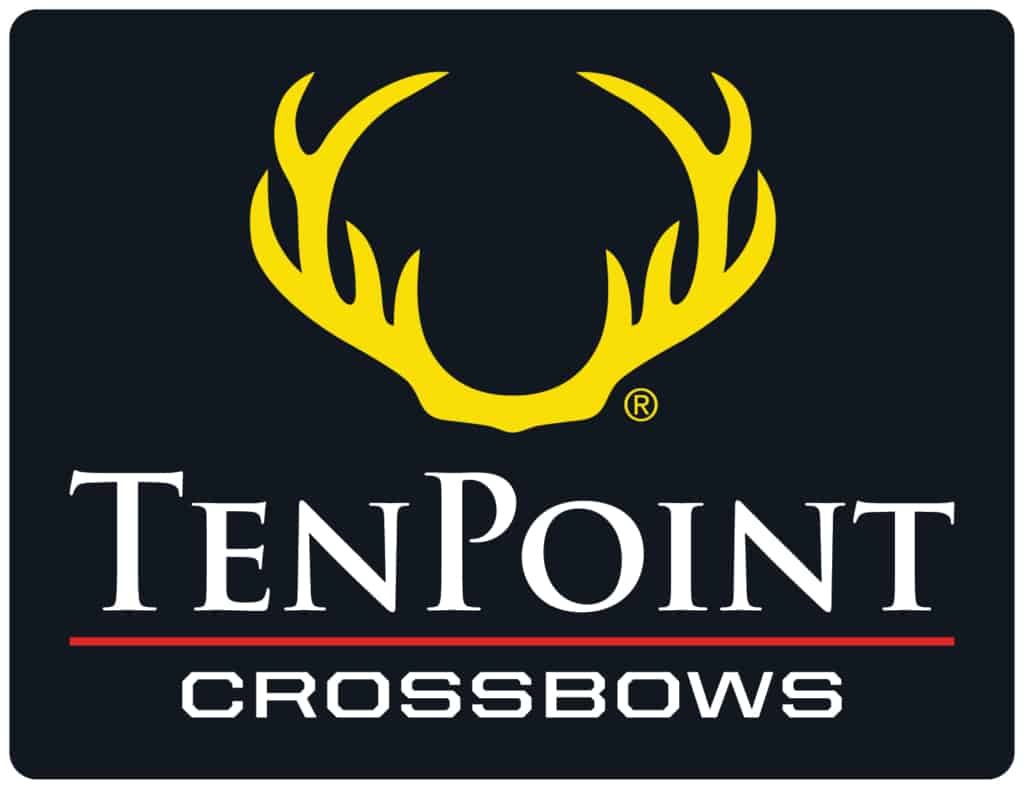 To understand what makes TenPoint crossbows so great and how to find the best one for your needs, it helps to have a little bit of background into the TenPoint company. It was founded by Rick Bednar who grew up in the archery world, guided by his father, Bill Bednar, member of the Archery Hall of Fame. His parents also owned an archery shop, and as a child, Rick lived in the adjacent apartment.
As an adult, Rick Bednar bought his parents' archery shop and entered into a partnership with Horton Crossbow Manufacturing Company. After realizing the growing potential of the crossbow market, he then decided to branch out on his own in an effort to make quality crossbow models to fit the needs of experienced bowhunters.
In 1994, Rick Bednar and fellow investors founded Hunter's Manufacturing Company which they'd eventually rename TenPoint Crossbow Technologies. Through the 90s, TenPoint enjoyed yearly double-digit growth until 2003 when the market really exploded thanks to the removal of crossbow restrictions in many states.
Over its 27-year history, TenPoint has led the crossbow industry by developing over 90 patents. These include things like the VibraCrush sound dampening system, the Dry-Fire-Inhibitor, and the ACUdraw and ACUslide cocking systems.
Many of TenPoint's patents have greatly improved the effectiveness of crossbows for hunting. For instance, in 2018 they were able to break the 400-FPS bolt-speed barrier thanks to their Vector Quad Cable System and advanced, innovative cams.
In addition to the quality TenPoint models, the same company owns Wicked Ridge Crossbows, which produces models better suited for beginners. Both crossbow brands are manufactured by TenPoint in the USA right in Mogadore, Ohio, where the company headquarters are located.
Bolt Speed and Kinetic Energy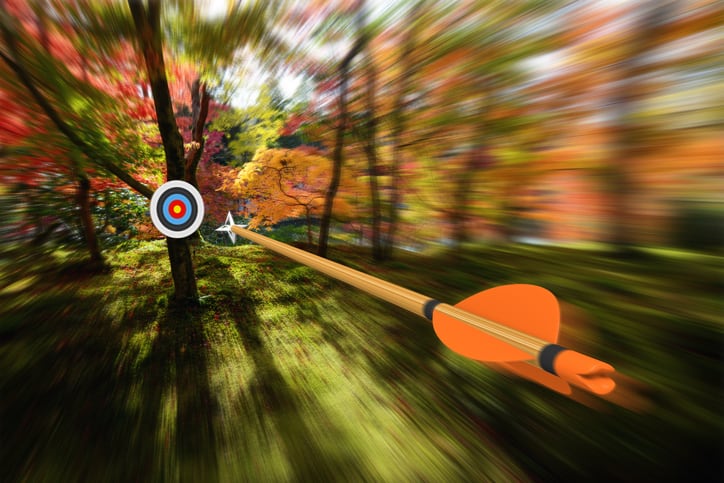 Bolt speed and kinetic energy are the two specs that people tend to check first. They reflect the power of the crossbow. That said, it's important to understand exactly what they mean before just springing for the model with the highest numbers.
Bolt speed is measured in feet per second, which you'll see abbreviated as FPS. Bolt speed factors into the penetrative power of the bolt, but that's not its primary benefit. Instead, high bolt speeds improve range and accuracy. 
Bolts drop quickly once they leave the crossbow, so if they travel faster, they can cover more distance before dropping. This means that over a given range, they'll fly straighter making it more easy to take an accurate shot since you won't have to calculate in so much drop. Plus, you'll be able to shoot at targets farther away because the bolt will simply go farther before hitting the ground.
While many hunters also check the bolt speed to see how penetrative the crossbow is and how big of game they can hunt with it, the kinetic energy is actually a much more accurate spec for this. That's because, if you remember high school physics, kinetic energy is the result of multiplying half the mass times the velocity squared. 
In other words, higher bolt speeds will give you more kinetic energy, but so will heavier bolts. Of course, your crossbow will fire heavier bolts more slowly. You can calculate this all yourself for your specific setup, but to get the general idea of your crossbow's power, just look at the FPKE rating. FPKE stands for "foot-pounds of kinetic energy" and is measured with a 400-grain bolt standard.
Higher FPKE ratings mean you can take down bigger game. The bigger the animal, the deeper the bolt has to penetrate to hit vital organs like the heart or lungs. More kinetic energy allows this. It also helps slice through tougher tissue and even bone without stopping or glancing off.
The TenPoint models on our list all have blistering bolt speeds and a lot of kinetic energy. In fact, two even break 400 FPS, which was, for a long time, the upper limit crossbows could achieve.
ATA Width and Length
The width of your crossbow will specifically be listed as the "ATA width," ATA standing for "axle-to-axle." This refers to the distance between the axles of the two cams on a compound crossbow.
Compound crossbows are already super narrow compared to other versions, but they still vary, some being several inches wider than others. A narrow crossbow is actually really helpful in the field because it's easier to move around.
A wide crossbow is more likely to catch on something, which causes two main problems. First, if a deer or other animal comes into range, getting the limb of your crossbow caught on something wastes time and might make you lose your quarry. Second, it could make noise, which could scare the quarry away.
Narrow crossbows are especially helpful in tree stands and blinds where space is at a premium. This is doubly true for climbing tree stands which often have barely enough room for your body. If you're a stand hunter, try to get the narrowest ATA rating you can.
Design Features
There are a lot of places where manufacturers can add some craftsmanship to give the crossbow just a little bit of extra edge. This is one of the places where TenPoint really excels.
For example, many TenPoint crossbows feature skeleton stocks. Basically, the stock has a big chunk in the center taken out of it. Thanks to TenPoint's advanced manufacturing process and modern polymer materials, a solid stock really isn't necessary. By just using the skeleton of the stock, the crossbow is still sturdy against your shoulder, but the crossbow weighs a lot less.
Weight in general is something you should pay attention to. When you're bowhunting, you'll only have a moment when your quarry is both in range and oriented so that you can hit the kill zone. You'll want to have your crossbow raised and ready to shoot in the meantime, but that means you have to hold it in place for several minutes. 
This is a lot easier if the crossbow is lighter. Plus, it'll just be easier to carry around in general. Go for lightweight whenever you can.  
Cocking and Draw Weight
Crossbows are powerful, but that means they're really hard to cock. The bowstring holds a lot of tension. Some of the most powerful crossbows have draw weights over 200 pounds, meaning that cocking the bowstring takes the same amount of effort as lifting 200 pounds off the ground. Luckily, TenPoint has historically led the industry in developing proprietary cocking aids that help overcome these heavy draw weights.
Their most basic cocking system is the ACUdraw, which involves a kind of hook you can attach to the string. Then you use a crank in the stock to slowly cock the bowstring with hardly any effort at all.
Additionally, some of TenPoint's more elite models have the ACUslide cocking aid, which is a step up from the ACUdraw. It also uses a crank system, but it's actually integrated into the crossbow and designed to be silent. This way you can cock your crossbow in the field without scaring away game. 
Trigger Systems
Triggers may seem like a small part of your crossbow, but they make a big difference on the hunt. The biggest issue is creep. Creep refers to how much you can pull back the trigger before it releases the bowstring and makes the shot. A lot of creep is bad because you have less control over the moment of your shot, decreasing accuracy and timing.
Another important aspect of the trigger system is the pull weight. This refers to the amount of force you have to apply on the trigger to shoot the crossbow, usually a few pounds.
Trigger pull is a trade-off. Heavier pulls require more force from your fingers which may cause you to jerk your hand or arm, throwing your shot off. However, if the pull is too light, you might shoot before you mean too and miss your target. For this reason, trigger pull is somewhat up to personal taste, but most archers and bowhunters prefer lighter pulls.
With TenPoint crossbows, look for the S1 trigger system. It's designed to have no creep at all and a pull of about 3.5 pounds that's light but still provides control.  
Scopes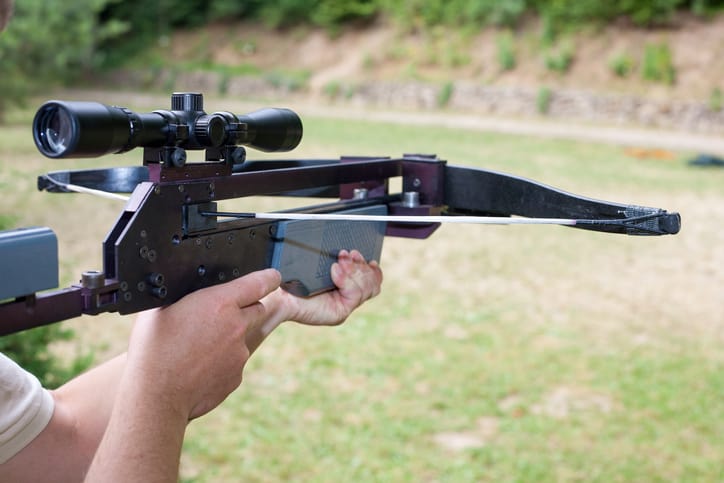 Modern scopes have greatly improved the accuracy of crossbows. In their ready-to-hunt packages, TenPoint usually includes a scope.
Most of these are reticle scopes. In other words, they include crosshairs or dots for different ranges. For instance, the crosshair for 20 yards will be slightly under the one for 10 yards, so you have to raise the crossbow a little to compensate for the extra distance. 
These scopes are great, but with certain top-shelf models, TenPoint has decided to step it up. Look for rangefinding scopes that can accurately measure the distance of your target and provide an exact aiming point.  
Other Included Accessories and Features

TenPoint's ready-to-hunt packages include a number of accessories and features that can increase your chances of a successful hunt. Most commonly these are things like quivers and bolts. You can also look for accessories like cases and slings that can help you store or carry your crossbow.
One cool feature to pay attention to is the camo finish. Specifically, consider the landscape in the area where you plan to hunt. Check to see if the crossbow you want comes in a camo pattern that will blend in with that environment. In many cases, TenPoint offers multiple options for their crossbows' finishes, so you can make sure you're adequately camouflaged.
Assembly
Lastly, take note of whether a crossbow requires assembly or not. TenPoint has models that come fully assembled and others that you'll have to put together yourself. Crossbows that come with some assembly required are usually less expensive, but they require some know-how on your part. Naturally, there's always the possibility of error, so you have to be confident you'll do it correctly.
Final Thoughts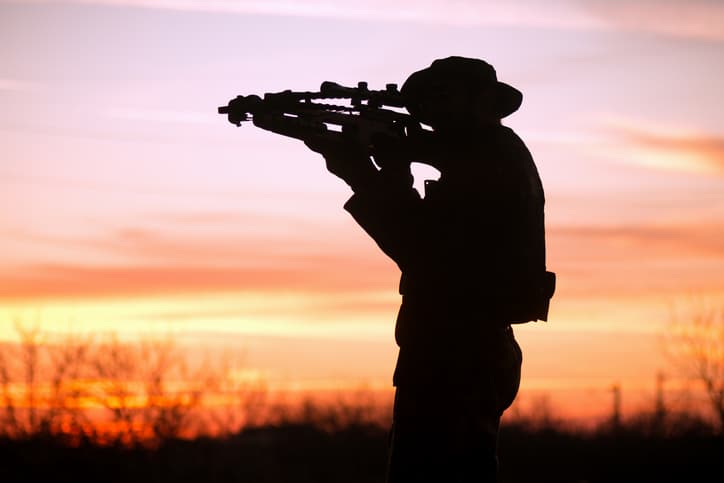 TenPoint makes quality crossbow models that work for a variety of situations.
If you're on a budget but still want great craftsmanship and effective specs, we suggest the Titan M1.
For maneuverability and convenience, you can also consider the Vengent S440. 
And if you want maximum speed and power with the most advanced features, we highly recommend the Vapor RS470.