Welcome to our "Ultimate Guide" post about bow sights! Below, we'll go deep into the topic, and discuss the A-to-Z of these tools that are designed to help you aim and (hopefully!) hit your target.
First we'll provide a quick list of our top picks. Then we'll talk about the different types of bow sights you can use, their advantages and disadvantages, and which might be a good choice for you. After that, we'll provide in-depth reviews of our favorite bow sights, including our review for the best bow sight overall. Finally, we'll provide some advice on improving your aim, share some of our aiming strategies, and weigh in on the "fixed pin vs. adjustable pin" debate. There's a lot here, but by the time you finish this post, you should know a lot about the topic. Let's jump in:
Quick Picks: Our Favorite Sights
We'll go into great detail below, but here's a quick summary of…
Our three picks for best fixed pin bow sites:
At #3… The Trophy Ridge Cypher 3 Bow Sight: a lightweight option with .019-inch pins, manufactured in 3-pin or 5-pin options. A good "just-the-basics" model. 
At #2… The IQ Micro Pin Bowsight: Manufactured with 3-pin, 5-pin, and 7-pin options, and "Retina Lock" technology designed to enhance stability. A very solid option, in our humble opinion.
At #1… The Trophy Ridge React Pro 5: A deluxe 5-pin model made with .019- and 0.10-inch (very thin!) pins. Designed for maneuverability and letting off shots at odd angles, and with "React Technology" to simplify setting the pins. Our pick for the top fixed pin model.
Our three picks for best single pin bow sites:
At #3… The Trophy Ridge Pursuit Bow Sight: A solid entry-level pick, with a reasonably silent dial and a clear shot view.
At #2… The HHA Optimizer Lite 5519: Designed for easy installation and with longer shot potential (it's manufactured for shots up to 80 yards), we found it to be easy to sight in and easy to use. And finally…
At #1… The HHA DS-5019 Optimizer Lite: Our pick for the top sight out there. Lightweight, relatively easy to assemble, and with by-the-yard increments all the way up to 80 yards. That by-the-yard feature can be surprisingly hard to find.
Our pick for the top pendulum sight: 
The Truglo Pendulum Adjustable Bracket Single Pin Sight. Pendulum sights are overlooked in our experience, and we like this one a lot. 
OK! Now let's dive into our reviews, and after that, we'll get into the nuts-and-bolts of bow sights, and talk about the different types that are made, and which may be right for you.
The Best Bow Sight Reviews
We've gone through a looooooot of bow sights, and here are the models we like most. Below, we'll discuss their strengths, their weaknesses, and why they stand out.
Trophy Ridge Cypher 3 Bow Sight
Our #3 pick for best fixed pin bow sight; a great "just the basics" option
For a "no frills" option, the Trophy Ridge Cypher 3 Bow Sight actually has a lot going for it: it's got a "Ballistix Copolymer System," which is Trophy Ridge's way of saying that the sight is lightweight aluminum and actually eats up some vibration upon arrow release (and that's a great feature if you'll be bowhunting); it's got a glow-in-the-dark lining around the scope's housing and a bubble-level; and it's for use on right-handed and left-handed bows (if you're a lefty, you can turn the housing around and install it).
The pins themselves are .019 fiber optic—just about what you'd expect for this type of model—and it's manufactured in 3-pin and 5-pin versions. As a general rule of thumb, if the majority of your shots are within 30 yards, a 3-pin variety should do you fine (you can set them at 10 yards, 20 yards, and 30 yards); if you're going to be letting off shots more than 30 yards, a 5-pin might be a better option (because you set the pins at 10, 20, 30, 40, and 50 yards).
It's manufactured in camo and black—arguably the only acceptable colors for a bow sight!—and we think this is a good all-around pick, especially for beginners using a compound.
IQ Micro Pin Bowsight
Our #2 pick for fixed pin sight; the Retina Lock can be a very powerful tool
We'll start with the pins: the IQ Micro Pin Bowsite is manufactured with 3, 5, or 7 pins, so whatever your style of shooting—whether you like targets relatively close or targets very very far away—you've got options. The rest of the features, in our humble opinion, range from good to great: bubble level (good, and kind of expected); tool-free locking knobs (very good); and incremental windage and elevation knobs that adjust at .0015 per click (excellent)
[One quick note, if you're new to sights: "windage" refers to adjusting your sight so that your arrows will hit more left or more right; "elevation" refers to adjusting your sight so that your arrows will hit higher or lower]. The only complaint we have is that the sight doesn't come with sight light—you can buy one separately, but until you do that, it's not a perfect fit for low-light shooting.
The real benefit of the IQ Micro Pin—and we actually really like this—is the "Retina Lock" technology. Here's how it works: on the back of the sight—the area that you look at—there's a green circle with a black dot in it near the top of the sight. Upon full draw, you line up the black dot in the middle of the green circle.
If there's anything "off" about your draw—if you're off your anchor point, or if your grip is torqueing a little bit—the eye won't line up. Line up the black dot in the middle of the green circle, and you're good to go. It can be an incredibly powerful tool, and while it certainly ain't how your grandfather shot arrows, it can add a lot of stability to your shot, and we'll take all the help we can get!
We really like this model, and in our experience, it's pretty unique. If you're interested in it, take note: it's a "handed" model—there's a version for lefties and a version for righties—so choose appropriately.
Trophy Ridge React Pro 5 Bow Sight
Our #1 pick for best high-end fixed pin bow sight; accurate, and a *great* time-saver
There are a lot of nice touches on Trophy Ridge React Pro 5: it's manufactured with two different pin sizes, so if you want the regular size (.019 inches), you've got that, but if you find those pins too big—if you feel that they clutter up your view of the target—you can opt for thinner pins (at .010 inches). The pins are very bright fiber optic models, and they come with a rheostat light, and along with the glow-in-the-dark housing on the scope, that makes the model a good option for low-light shooting at dusk or dawn.
You can make adjustments without any tools, and it's got a Third Axis Adjustment capability, so you can shoot at weird angles. Plus—as you'd hope for a sight—it's both sturdy and light. Even if those were the only features of the sight, it would get our vote for best sight for fixed pins.
But the real advantage of the Pro 5 is Trophy Ridge's "React Technology." When you accurately sight in two yardage markers, all the rest of your markers up to 60 yards are automatically set. It's kind of a cool thing to see.
That little feature can save you a lot of time and effort, and while there's definitely a lot of value in learning how to set each individual marker, once you've got the hang of it, the task can be a drag. The "React Technology" can be a really valuable tool—especially if you're time is limited, and you want to spend more time shooting than you do setting your pins.
We think this is a fantastic model, and it gets our vote for best fixed pin sight overall.
Trophy Ridge Pursuit Vertical Pin Bow Sight
Our pick for "just the basics" single pin adjustable bow sight; a good entry-level option
For an entry-level option, the Trophy Ridge Pursuit Bow Sight has a lot going for it: a bright 0.019 inch pin that's illuminated with a rheostat light (which makes it a good option for dawn/dusk/low light shooting);  a glow-in-the-dark ring around the sight itself; a bubble level to help with vertical alignment when aiming; and—most importantly—a slider to help you dial in and aim a target a specific distance away, which is reasonably quiet. Those are all the basic features we'd look for in a sight—and when push comes to shove, you really don't need anything other than those features. 
There are some "bells and whistles" this model doesn't have, and it may take a little while to sight in and adjust it—and you'll need to use a hex key/Allen wrench for a lot of those adjustments. That's par for the course on an entry-level / "just the basics" option, though, and to be expected. If you're new to archery and new to sights—and you're not yet sure you want to make a big investment in a high-end sight—this can be a good option.
HHA Optimizer Lite 5519 Single Pin Adjustable Sight
A great "almost deluxe" option; quiet and sturdy
The HHA Optimizer Lite 5519 is a very popular sight, and according to the manufacturer, it's been Bowhunting World's "Reader's Choice" recipient for more than ten years. It's easy to see why it's gotten that recognition: it's simple and it's sturdy and it's very easy to set up—no tools needed (no hex keys / Allen wrenches)—and it's easy to sight in: sight in at 20 or 60 yards, and you should be ready to aim and shoot anywhere from 20 all the way up to 80 yards. That's a pretty impressive range—80 yards is 10 yards more than Olympic target archers shoot, and if you're complaining that you're not accurate at 80 yards, well, you should be writing the reviews instead of us!
This a good "almost deluxe" version, and the only complaint we have is that the yardage measurements are labelled in 5-yard increments. That's good, but not great—and you end up doing a little guess-work if you're shooting at a distance between, say, 20 and 25 yards. It would be great if the sight had exact yardage markers, and that's why our pick for the best all-around single pin adjustable sight is the…
HHA DS-5019 Optimizer Lite
Our pick for best bow sight overall, and best single pin adjustable sight
THIS—the HHA DS-5019 Optimizer Lite—is the deluxe adjustable single pin sight we make if we did that sort of thing. It's got all the features we'd want in a sight: it's fairly lightweight (made from 100% aluminum); it's got a green sight ring and levelling bubble; and it's manufactured in black (and you can never go wrong with black).
It's easy to mount, and you need zero tools to adjust windage and elevation. It's quiet. It has a harmonic dampener, designed to eat up a little of the vibration when you release an arrow. Sight in at 20 yards and 80 yards and you're good to go, and… our favorite feature of all…
It's got by-the-yard increments on the adjustable dial. If you're shooting at a target 17 yards away, set the dial to 17 yards. If you're shooting at a target 38 yards away, set the dial to 38 yards. There's no guesswork, and there's no estimating. That's a fantastic feature, and honestly it's a little bit odd that all adjustable sights don't allow for yard-by-yard adjustments.
This gets our vote for best bow sight. It's not perfect—on a sight of this quality, you wonder why they didn't include .010-inch pin—but as far as sights go, this is, in our humble opinion, a top-notch, fantastic piece of equipment, and one we recommend.
Truglo Pendulum Adjustable Bracket Single Pin Sight
Our pick for a pendulum sight
Pendulum sights are unique instruments, and honestly, there's only one know well enough to recommend: the Truglo Pendulum Adjustable Bracket Single Pin Sight. As we mentioned earlier, pendulum sights are made for the very specific purpose of shooting from heights and at odd angles. Most of the time, that means bowhunting from a tree stand or maybe on a mountainside or in hilly terrain, but it can also be a good tool for roving.
The Truglo can be a good option for those purposes: the sight itself slides smoothly, so that when you aim downward, the sight slowly moves, instead of flapping around (which lower-quality pendulum sights can end up doing). It's also a good "two-in-one" product: you can lock the sight into place, so that when you climb down from the tree stand and want to do some shooting on level ground, this turns into a regular sight.
You probably don't need a pendulum sight if you're not shooting from a height, but if you are, we like this model.
The Adjustable Target Bow Sight
A simple sight, great for recurve shooters of all skill levels
At long last! The humble target sight for a recurve! The Adjustable Target Bow Sight is a pretty simple tool, and we think it's a great pick for recurve archers.
There are more high-tech recurve sights out there—they can get pretty fancy, in fact—but this is a great starter-option, and it's pretty easy to use: loosen the bolt to adjust the elevation, and screw looser or tighter to adjust windage. If you use a Samick Sage—and we're big fans of the Samick Sage for new archers—this will fit that bow perfectly.
The nice thing about the model is that you can use it at most skill levels. Once you get really good, and you start shooting at Olympic-distance targets (70 meters!), then you may want to step it up. But for most everyone else, we found this to be a good option.  
And… there you have it! Those are the bow sights we like. There are a lot of them out there, but those are the ones we consider to be "the top of the heap."
Now that we've discussed them, let's get into some schoolin':
Different Types of Bow Sights
If you're new to archery, you might be surprised to learn that there's a modification for absolutely every single piece of equipment you will ever use, and of course, bow sights are no different. There are bow sights that are good for hunting, others that are good for target shooting and roving, even some that are good for aiming heights and elevated angles.
So here are the basic types of bow sights, along with their uses. Hopefully in the following paragraphs we'll be able to identify the right bow sight for your practice.
What is a Fixed Pin Bow Sights (aka "Multiple Pin") Bow Sight?
The fixed pin or multi-pin sight is probably the most common and well-known sight for archers, and particularly for bow hunters. It comes as an add-on for a lot of compound bows, and if you look around, you'll probably see a few of them at your local archery range or hunting club.
Generally speaking, fixed pin sights feature 3 or 4 or 5 pins in the sight, and you can arrange them in the sight so that you can aim at a target at different distances. The pin that's highest in the sight is usually set for a target that's 10 yards away, the second-highest pin is usually set for targets that are 20 yards away, the third-highest pin is usually set for targets that are 30 yards away, and so on.
They look like this: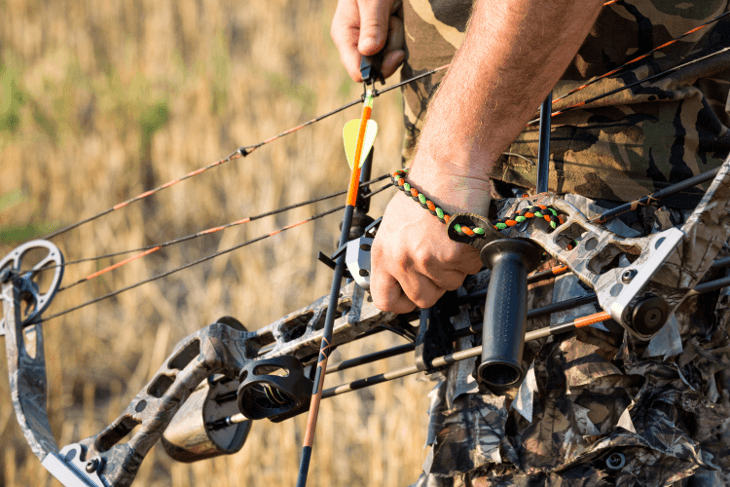 This guy is using three pins in his bow sight. If you can't see what we're talking about, here's a zoom-in: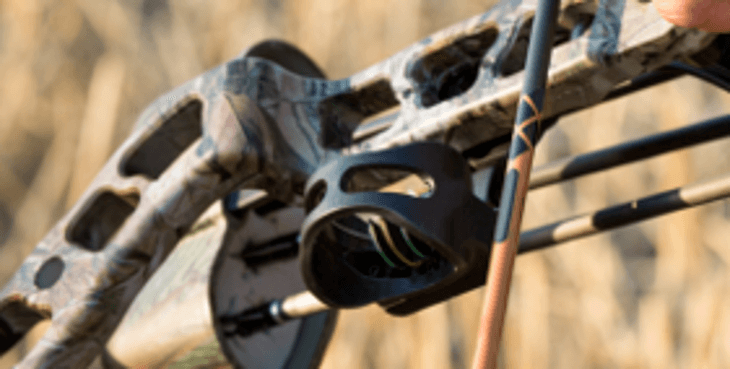 As you can see, the pins are usually horizontal, and feature different colors, so you can tell them apart.
The name "fixed pin" target is a little misleading, because the pins are not permanently "fixed" in place—you can move the pins up and down however you like, and in some models you can even add or remove pins—they're "fixed" because you usually set them in place and leave them there, so that when you're out hunting, or on the range, or roving, you don't have to move the pins to aim at a target.
You know the highest pin is for targets 10 yards away, the second-highest is for targets 20 yards away, and so on. If a target is 15 yards away, you'd aim using the area between the first and second pin. 
With that in mind, you may be wondering…
What is a Single Pin Bow Sight?
A single pin sight (sometimes called a moveable pin sight or an adjustable pin sight) has—you probably got this already, but just for the sake of completion, we'll say it anyway—a single pin. That might make it sound like you have fewer options when aiming—how could one pin be better than many?—but here's why a single pin is pretty fantastic: you can move that pin so that it'll help you aim at a target at an exact distance from you.
If there's a target 8, or 14, or 27 yards in the distance, you adjust the pin in your single pin bow sight so that you're aiming at that target 8, or 14, or 27 yards away. No guessing and no estimating—you set the pin for the exact distance, aim, and shoot.
Lots of archers and hunters "eyeball" the distance ("looks like 16 yards, or thereabouts!") but plenty else use a rangefinder—a device that can measure the exact distance between you and an object—and then set the pin (and, obviously, if you're at the range or if you're roving on a set course, you can know exactly how far away a target is).
Single pins are usually vertical (as opposed multiple pins, which, like in the photo above, are usually aligned horizontally), and while they're relatively new on the scene, there are a lot of archers who love them, and we'll talk about their advantages and disadvantages in a second.
With those two sights, you'd imagine that's all you'd ever need to consider, right? Well, you'd be wrong, because…
Wait! There's more!
What is a Pendulum Sight, aka a Treestand Sight?
Many archers shoot at targets that are on the same plane as the archer. Think of an archer in front of a bull's eye target—the archer is usually standing on level ground, aiming at a target that's roughly at the same height they are. Bowhunters, however, often shoot at their targets from above, when they're perched in a tree stand or a hunting tower, and if that's your strategy, a pendulum sight can be helpful. Here's why:
Shooting from a stand gives you an advantage, because you can see over brush and spot potential targets in the distance and you can remove yourself from your target's eyeline, but the problem is that aiming and shooting downward from odd angles can be very difficult.
You could use a multiple-pin sight and set them for the weird distances and angles you'd experience from a tree stand—and plenty of hunters do, with a lot of success—but it can be to re-set them when you went back to aiming and shooting on flat or semi-flat land.
And that's where pendulum sights come into play. A pendulum is basically a weight that you hang from a fixed point so that the weight can swing forward and backward, and pendulum sight swings forward or backward depending on the angle at which you're holding the bow. If you're aiming downward at a far-off target, it will swing forward just a little bit; if you're aiming downward at a very near target, it'll swing forward dramatically.
But here's the magical, oh-man-that's-so-simple-and-so-cool thing about it: because the sights swings, it readjusts by swinging forward or backward so that you can keep your aim on your target.
If you're having a hard time visualizing what we're talking about, there's a great video example here.
If you're not shooting from a treestand, you really don't need a pendulum sight, but if you are shooting from a treestand, they can be helpful. They're not a sure thing—they're not going to make you into a master archer or anything like that, and they're not going to correct any mistakes in your shot—and the majority of bowhunters use a fixed-pin or a single-pin sight, but they can be helpful when used from heights.
Are There Any Other Types of Sights?
Yes, there's the Olympic-style target sight that you'll see on a lot of recurves, and they look like this: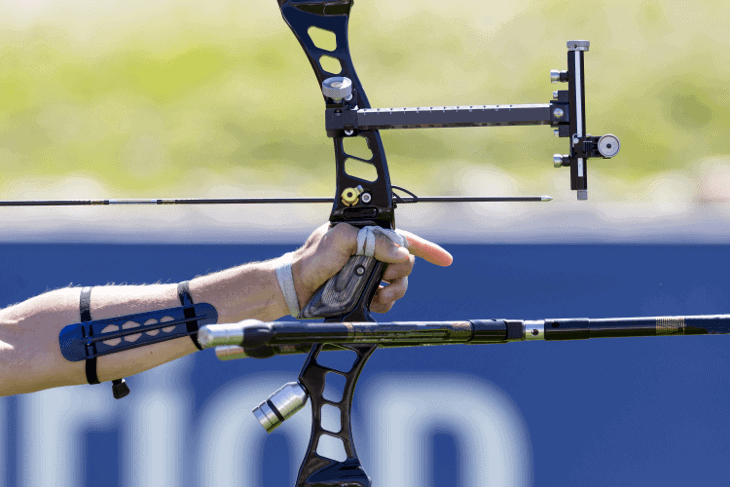 They usually feature a single pin that you can easily move vertically or horizontally. Many are simple, lo-fi instruments, but some are incredibly sophisticated, and allow you to measure by the millimeter how far left/right or up/down you want to move the pin. These units feature careful design for precision shooting, but they aren't a very good option for hunting, because they're usually set for one distance—the target archer will sight in for one distance and one distance only (after all, there's only one pin), and they'll leave the pin set for that distance.
Which Type of Sight Is Right for Me?
Honestly, a lot of it comes down to personal taste. It really does. We know archers who use all types, and each has his or her (very personal and very unique) reasons for doing so.
If we had to list the most common reasons people select one of the sights we mentioned above, we'd say…
Fixed Pin (aka Multiple Pin) Sights: These are great "all around" option. They're versatile, they'll allow you shoot at multiple distances, and once you set them up—and that can take a while—you're good to go. You don't have to re-adjust, and re-set, and re-measure. They're great for target shooting and 3-D shooting, because you practice at a number of different distances, and they're great for bowhunting, because you can sight in on a target regardless of how near or far that target is from you, and you don't have to adjust your sight when you're in front of game. As long as you've got your pins set up, you should be good to go.
Most importantly, though, they're great for beginners. They provide a reliable framework for you to explore your bow, and see how it performs at 10 yards, 20 yards, 30 yards, etc. You have to adjust them (and re-adjust them, and re-adjust them, and re-adjust them) in order to "sight in" on a target, and that's great practice. It develops your understanding of the bow and how to use it, and you can't "mail it in" like you might with a single/moveable pin.
(And, honestly, there's another reason so many people use these, and that's because they come pre-installed on a lot of bows! Honestly, most people probably use these because they come as part of the package. Even some really high-end bows come with a fixed pin sight attached to the bow, and that may be one of the reasons they're so popular).
The only problem with them is that they're not precision instruments. If you're shooting at something at a distance that's not exactly where your pin is set, it's kind of a guessing game. That's not a big deal with you're having fun at the range, but it can be a huge deal when you're on the hunt.
That's why some people like…
Single Pin (aka Moveable Pin) Sights: These are precision instruments, and as we said above, you can set them to aim at the exact distance of your target. That makes them great for… just about everything! Hunting, target shooting, 3-D, roving, etc.
There are two negatives, though: 1) they're not allowed in certain competitive events, and 2) they can be difficult to use on the hunt. When you come across whatever it is your tracking, you don't know how near or far that animal will be, and you'll need to scope the distance—and then adjust your single pin to that distance.
Whatever you're hunting isn't always that amenable to your timeframe, and that can be a big drawback. There's the rub: single pins are more accurate, but you may not have time to set them up when you're out in the wild.
So, there's the rub: single pins are far more accurate, but you may not have time to set them up when you're out in the wild.
That said, we know a lot of bowhunters who use them, and like them a great deal.
Pendulum (aka Treestand) Sights: These are pretty simple, and as we mentioned above: they're great for bowhunting from treestands. If you do a fair amount of roving, they might be useful, but these really are unique instruments created for a very particular purpose.
Olympic-Style / Target Sights: If you're interested in good-old target archery—you, a recurve bow, and a bullseye target—this is usually what you're looking for. A lot of the archery competitions people enter require these types of sights, and they have rules about the kind you can use. It's actually kind of rare to see these on anything but a recurve, as most compounds seem to feature a fixed pin sight.
They're a bad match for hunting, because they feature a single pin, and you need to manually re-adjust the pin for every new distance you shoot at, and then test it to make sure you're sighted in properly—so you should not use them for hunting.
They're also great for beginners—because they feature a single pin that's easily adjustable, they're a great way to learn how to sight in on a target.
Some Aiming Tips that May Improve Accuracy
As long as we're discussing sights, we might as well give some pointers about archery's most elusive topic: aim, and how to develop it.
This is, by no means, a complete directory of aiming tips, and there's a "range" to each of the pointers below. Some are technical, some are practical, and some of them are kind of philosophical, but hopefully there's something below that'll help develop your abilities.
Chase Those Arrows, Son!
This is Lesson #1 when it comes to sighting in a bow, and it's for you new archers out there: when you're sighting in a bow, you adjust the sight for accuracy by "chasing" your arrows. If you shoot six arrows, and you find that they're all landing above the bullseye and to the right, you would move your entire sight up and to the right, and during the next round of shots, your arrows will hopefully be closer to the target.
If your arrows are grouping below the bullseye and to the left, you'd move your entire sight down and to the left. Re-adjusting the sight in such a way with re-align it so that your sight is actually pointed at your target.
You may have to "chase" your arrows for a little while in order to sight in and make your bow sight accurate, but it's important, and it's what most archers do for the first 15 or 20 minutes when they're at the range!
The next tip is a little counter-intuitive:
A Good Carpenter DOES Blame His Tools
Modern archery is a triumph of precision materials, and the modern bow is unlike any other bow from any other era in history. They're incredible little contraptions, and they've been manufactured to unbelievable standards—and with proper tuning, you can enable your bow to produce consistent results, arrow after arrow after arrow.
That said…
You can have the most amazing bow in the world, but if it's not tuned right, it doesn't matter how good you are—you're going to get lousy results.
Set-up matters, and it matters a lot. If your bow isn't tuned properly, or if it falls of tune easily, you're going to have a very, very hard time finding your target—and you're going to have an even harder time finding that target over and over again.
Tuning a bow—especially if you're a novice archer—can be frustrating. It takes time, effort, and PATIENCE to learn how to do it properly. But it really is the key to the castle—until you learn how to tune a bow properly, your results are going to be a toss-up. Aim matters nothing if you're bow isn't tuned right.
Think about it like this: you can be a FANTASTIC violinist, but if you sit down with a violin that's got a hole in it, and it's out of tune, and it's got a string missing… you get the point.
Sighting in Takes Time
We mentioned this a second ago, but it's worth repeating: sighting in takes patience. It takes a while to get it right, and while you're doing it, you'd probably rather be working on your shot, or just having fun and shooting away. It's important, though, and it takes some doing.
If fact, it's not uncommon—especially if you've got a new bow—to visit the range and spend your entire visit tuning your bow. There's that old joke: "When do you know when it's time to leave the range? When you're finally ready to start shooting."
So take the time, because it can literally be the difference between success and failure. If it's worth doing, it's worth doing right.
Aim is Secondary to Form
Most new archers think that "aim" is something you do at the end of the shot sequence, when you're at full draw and about to release the arrow—that it's basically something you do with your bow arm and your eye when you're at the end of the shooting process.
That's not the case, though. Aim is the whole thing. The whole enchilada. The entire draw sequence is part of your aim.
If you think about it, every single aspect of your draw determines whether you'll hit your target or not. If your bow grip is too tight, your bow will shake; if your string hand grip is inconsistent, you'll see different results; if your anchor point is non-descript, it's like not having an anchor point at all—etc etc. Every part of your draw determines your repeated accuracy.
So if you want to develop your aim, a sight should definitely help—it's hard to deny that—but if you want to truly develop your aim, develop your entire shot routine. Every part matters, and all the pieces make the whole.
The "I aim with my arm and my eye" thing happens to new archers a lot, but it also happens to those of us who have been at it for a while, so it's something to… keep an eye out for (ha).
Be Careful with Release Aids—and Wrist Straps in Particular
Alright, now for a "practical" tip: if you use a compound bow and a release aid, make sure that puppy is 1) secured very, very tight, and 2) secured to the same degree of tightness every time, because variation in the use of the aid can lead to inconsistent results.
This is a common problem with release aids that have a wrist strap. Most wrist straps have a pin and a number of holes to put the pin in, and you can adjust the tightness of the wrist strap by inserting the pin in different holes. Make sure that you're securing the wrist strap to the same degree of tightness every time you shoot, and if you need to, take a pen and put a mark around the correct pin hole. If you use a wrist strap that has Velcro, make a mark on the Velcro so you can be sure to use it consistently.
This sounds like an obvious one, but it's amazing how many guys we see at the range who forget that even release aids are part of the aiming process, and need to be used in a consistent manner.
Shoot the Same Arrows
This is another practical tip: even with the amazing degree of uniformity among arrows, different arrow sets shoot different, and you get used to what you practice with. Find a manufacturer and type of arrows you like and that work for you, and stick with them.
Here's why that's difficult: you get a set of arrows you're really excited about—Carbon Express Predators, let's say—and you'll use them for a few months. Then one of the fletchings will fall off, and for the life of you, you can't fix it, and then it happens to another arrow. So now you've got four arrows, and you've heard that your friend has had great luck with Gold Tip arrows, so you buy a couple of those… and now you've got a mixed set of Carbon Express and Gold Tips. Those are going to perform just a little bit different, and it's something you'll need to keep in mind.
Also remember that if you switch arrow sets—if you go from Carbon Express Predators to Easton Bloodlines, or something like that—you may find that they shoot just a liiiiiiittle bit different, and you'll have to "learn" them. It's a thing, so keep it in mind.
No Bodybuilding Competitions
A lot of archers imagine that a strong bow arm = accuracy. If they can flex their muscles and hold that arm totally still, they're come up bullseyes again and again. It doesn't work that way, though, and the more flexing you do, the more your muscles will shake. The more you shake, the more your arrows go all over the place.
So, relax. That can be difficult—after all, holding a bow can be tiring—and fight the idea that your pin will settle over your target and stay there. It won't, and it never will. When you're aiming, your pin will shake a little bit, and no matter how strong you get, it's going to quiver a little bit. The trick is to work with that quiver, and release at the right moment.
That—"the trick is to work with that quiver"—might be the best advice we give, so it's a shame that it's buried in a section titled "No Bodybuilding Competitions!" But what can you do.
Get in Shape and Build Muscle
So we just got done telling that flexing your muscles won't make you more accurate, and now we're telling you to get in shape and build muscle. What gives?
While flexing during a shot is only going to decrease your accuracy, the strength it takes to shoot arrow after arrow after arrow (and the only way you get better is by shooting arrow after arrow after arrow)—well, it takes a fair bit of strength to shoot for a few hours. If you've ever visited the range when you're particularly out of shape, you might find that towards the end of your session, you're having trouble even holding the bow up, never mind aiming properly.
So being toned really can make a difference. Building your overall fitness—both your strength and endurance capabilities—can really help your development as an archer. If you remember the glory days of Tiger Woods, one of the things that set him apart was that he hit the gym, and he was the first golfer to do that. His attitude was, "I'm the only guy who feels alert in the second half of a tournament, and that's one of my secret weapons." Most archers ignore their fitness, and that's a shame.
Workout tips are a little outside the reach of this post, but we've provided some workout guidance in other articles, so check those out if you want to learn more.
Seeing Your Success: Visualization
So we just discussed physical fitness. We'd be remiss if we didn't also mention mental fitness, because brothers and sisters, it's a big deal. If you've ever heard an Olympian discuss their performance after winning an event, they will almost always mention their mental game, and very often, they'll mention visualization. There's a reason so many high-performers talk about it: it can work, and there's research that backs that up.
There are a couple of different methods to visualization, but they're all pretty simple: just close your eyes and see the results you want. Take some time, relax yourself, and try to see—as vividly as possible—everything you want to happen.
The trick is to know what you should be seeing. It's easy to imagine yourself getting bullseye after bullseye, but that's an incomplete version of visualization. In a "complete" visualization, you will go through the entire shot process, from gripping the bow, to picking up your arrow, to nocking it, to grasping the draw string, and so on. The entire process should be part of your visualization, because success means all those parts of the draw are successful.
The other trick is to visualize all the "extra" circumstances of an event. Let's say you have a big archery competition coming up, and you want to visualize it. You'd visualize each part of the shot process, but you'd also visualize the crowd and how it looks and sounds, your nervousness (and how you work through it), the other competitors, and so on. The more you can encapsulate in your visualization, the better.
Get Your Zen On
We've mentioned this elsewhere, but it's a good thing to revisit it: meditation may seem like something for new-age types and hippies, but there are physical benefits to meditation that have been proven time and time again by scientific study.
The first, and most obvious, benefit is enhanced focus. Meditators who have been at it for a while are able to clear their minds of unwanted thoughts and devote all their mental energies to a specific task. If you've ever been in front of a target and you can stop thinking about work, and your kids, and stupid Carl next to you who actually believes that… well, you get the picture. Enhanced focus is a really powerful tool for an archer.
The second benefit is a little surprising: some studies show that meditating can lower your blood pressure. That's a good thing, because when your blood pressure is jacked up high, you can feel it in your chest, and you stop moving, you can even feel it move your arms a little bit. Having a relaxed, even, smooth heartbeat—one that doesn't rock your body—can be an advantage when you're aiming. We'll quote Chris Kyle, from American Sniper, when he said that you need to shoot between your heartbeats. Any movement of your body can affect your shot.
And… that's it for now! We've got other posts about aiming, so check those out if you're interested. But there's one more bit of advice that can make a difference…
Visit an optometrist! You can aim if you can't see!
The Great Debate: Single Pin Bow Sights vs. Multi-Pin Bow Sights
If you've ever met a bow hunter, you might find that… well, he or she has some pretty clear ideas on the right way to do things, and the wrong way to do things. Because sights are such an important factor to so many hunters—there are folks who are good enough to bow hunt without sights, but those folks are few and far between—there's a lot of talk about sights, and that's led to the unending debate of which is better: the single pin sight or the multi-pin sight?
In our humble opinion… there are benefits and drawbacks to both of them.
The multi-pin sight is probably the most popular sight with bow hunters. It's a workable option that requires practice, and it almost forces you to "learn" your bow. When you're at the range, it enables to you quickly jump to different differences, allowing you gain competence at different shooting distances, and that capability transfers to an advantage when you're on the hunt: see prey at a certain distance, aim accordingly. No adjusting, no measuring, no scaring away the animal with all the noise you're making. Those are some BIG advantages.  
But even though those pins represent options… they can get in the way! A common complaint is that the presence of too many pins can make for a cluttered line of vision, and some people find those extra pins so distracting that it impairs their ability to carefully focus and aim. In fact, some bowhunters find that they can't remember which sight they should use in the heat of the moment, and those other pins become more of a hindrance than a help.
There's also the limit of only having a pin available at certain increments—if your target moves in between two pins, that could make it harder to determine the proper hold and shot. That's a big negative.
And that's why single pin sights can seem so seductive. While they require more skill and practice, they also offer the potential for better accuracy and quicker on-the-fly changes when you're hunting. Tracking a moving deer, for example, could mean needing to make multiple changes in position and sighting to get a clean shot, and if you know that you don't shoot well between the pins of your fixed-pin sight, that can get in your head and ruin your focus.
And let's not forget that the single pin sight offers a very clear line of sight and little distraction. If you've ever lost a shot because you brought your bow up to your eyeline, saw all six of your brightly color pins, and thought to yourself, "Which one of these darns things am I supposed to use?" then you know the frustration of fixed pin bowhunting. For those of us who like the simplicity of archery, there's something appealing about ditching those rows of pins for a single focal point.  
But, again…
It requires significant skill to adjust a single pin sight while hunting, meaning it can be too difficult for beginner bow hunters. There's also the drawback of taking the time to adjust the sight, and your target could move significantly while you're setting up a shot. The constant need to readjust can make hunting feel a little tedious and could end up costing you the target you've been carefully tracking.
And if you've lost an animal because you were trying to adjust the pin—in other words, if you never even got a shot off—where's the advantage in that? A single pin could be the most accurate thing in the world, but if you're scaring off every darn deer within five miles, what's the point?
Honestly, you'll have to consider your own goals—and your own strengths and weaknesses—when you consider which type of sight is right for you. Some hunters may choose to work with both kinds of sights—and that's a reasonable approach—while others become firm devotees of a particular kind of sight. We wish we could give you a definitive answer, but—well, then it wouldn't much of a debate, would it?
Wrapping Up Bow Sights
There's a lot here, but sights are a really important part of target archery and bowhunting, so we hope it was worth the effort, and you now have a pretty clear idea of sights and how to select them. Have fun, be safe, and happy shooting!